Will Eisma
Composer/violinist
Biographical notes


Will Eisma was born in Soengailiat (Bangka, Indonesia) on May 13, 1929. At the age of seven, he began playing the violin in Muntok where he resided. He received his first lessons from his father, but soon thereafter began studies with a talented Indonesian. Throughout the entirety of World War II, Eisma's violin remained in his possession even during his internment in the Japanese camp in Bandung. This is where his first compositions were written for solo violin, for two violins and for violin and piano in 1942.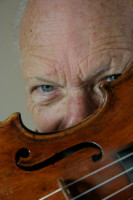 In 1946 he settled in the Netherlands and began his musical education at the Rotterdam Conservatory. He received violin lessons from Jewsey Wulf and Oskar Back. In 1952 he obtained his solo diploma. During this period he was also following composition lessons with George Stam and Kees van Baaren.
He continued his lessons in composition in 1959 with Goffredo Petrassi at the Accademia Nazionale di Santa Cecilia in Rome, where he, in 1961, received the Diploma di Studi Superiori di perfezionamente for his work Concerto per Due violini.
At the première of this Concerto for two violins in June 1961, Eisma performed together with violinist Lilia Beretti and the Orchestra di Sante Cecilia in Rome. Other performances of this concerto took place in Copenhagen, Vienna and Amsterdam.
As of 1950 his compositions display a rhythmically modern style, influenced by Bartók and Stravinsky, as in for example, Duo (1955) for violin and viola, Concertstuk (1956) for violin and piano and the orchestral piece Concertante Muziek (1957) which was first performed in 1959 in Rotterdam under the direction of Eduard Flipse.
Due to intensive contact with other composers at the Gaudeamus institution in Bilthoven, a change in style became evident in his compositions dating after 1956. Both technically in composition as well as the content of the works began to show a more or less a serial-like language.
Examples from this period are: Sonata (1959) for clarinet, horn, violin, viola and cello and Concertino per orchestra da camera (1959).
The more clearly 12-tone technique compositions are the previously mentioned Concerto per due violini (1961), Quintetto per archi (1961) for two violins, viola and two cello, Due Madrigali (1962) for violin and piano and Taurus 05N2A (1963) for orchestra.
As from 1963 his interest was directed to more graphically notated scores: Volumina (1964) for large orchestra, Archipel (1964) for string quartet and Wonderen zijn schaars (1965) for recorder and piano.
Archipel was the topic of a doctoral study by Paul Kuik:
"The role of tonal color in post-war string quartet compositions",
University of Amsterdam, December 1984.
Graphical compositions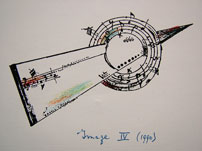 Non-Lecture (1965) is an entirely graphic work for string or wind player or eventually both, which can be interpreted by individual insight. It is a drawing with a musical form. The musician inspired by this idea is able to set the drawing into music which sounds different at each new performance. Ability to improvise is a necessity for this work. From this concept Eisma produced independent solo compositions entitled Non-lecture II for saxophone, Non-lecture III for viola and Non-lecture IV for violin.
A new period of composing is evident after 1967 and specifically developing from Non-Lecture and Eisma's actions in electro-acoustic studios (see below). Aleatory technique now plays a greater role as in: Gezang XXIII (1968) for violin and percussion and Hot, powdery stones (1968) for solo recorder.
Electro-acoustic compositions
Since 1961 Eisma has concentrated on electronic music composition recorded on tape. The first experiment was Bth.3457, completed in 1963 in the Gaudeamus studio in Bilthoven. His teachers Gottfried Michael Koenig en Frits Weiland were associated with the Sonology studio in Utrecht. The compositions realized in this studio include Elaborated Relaxation (1967), Stripped of outer string quotes (for violin and tape), Newsreel Sunday, Newsreel Tuesday en Newsreel Saturday, all dating from 1969. In 1972 Newsreel Sunday received an "Honorable Mention" at the Concours for electronic music during the SIMC in Rome.
In that same year, Eisma was invited to work in the electronic studio at the 'North Texas State University' in Denton, Texas and in 1974 by Joel Chadabe in the Studio of SUNY in Albany, New York.
Compositions from this period include: An old house in Mulberry Street (1972), Moogly for Joel (1974) and Wormstekige Appels (1974), all written for 4-track tape.
In 1973, Eisma started his own Studio "Five Roses".
A logical continuation of these purely electronic works for tape has resulted in compositions for an instrument or ensemble in combination with tape (soundtrack): Ten Flutes and Tape (1973), Caprichos (1974) for bass clarinet + tape, Adela I (1977) for oboe + tape and Liwung (1977) for gamelan-pelog + tape.
Life-electronics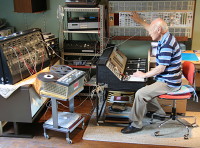 As a violinist, Eisma has focused on the performance of contemporary music. Together with a group of musicians from Hilversum he was one of the founders of the ICÉ (Electro Instrumental Group) and they performed numerous premières. With and for this group Eisma composed various works in which live electronics play an essential role. This instrumental activity led to the abandonment of the strict serial style and made room for improvisational and aleatory techniques.
Examples of this include: Le Gibet (1971), Collected Papers I (1972), Le cheval mort (1976), de façon primitive……peut-être (1977), Du Dehors-Du dedans (1983).
Gamelan
During his youth in Indonesia, Eisma was several times in contact with gamelan music. One example is of a wajang performance which took place during the Pasar Malam in the city Muntok on the island of Bangka where he was raised.
Following World War II, he had a renewed and emotional encounter with gamelan music in the Netherlands. In 1948 he was in the audience of a performance by Babar Lajar, the legendary group headed by Bernard IJzerdraat. After that, it wasn't until 1977 that he again came into contact with the gamelan. Onno Mensink, curator of the music department of the municipal museum in The Hague, asked Eisma to compose a work for
the museum's pelog gamelan. The result of this request was the composition Liwung for gamelan and tape, premièred in 1978.
In 1985 Eisma composed Suara Suara pada waktu fajar (slendro gamelan) and in 1992 Mawar jiwa, also for the slendro gamelan. Both works were first performed by the Ensemble Gending.
In 1996 the Japanese group Marga Sari began working on the piece Liwung. Concerts followed in Jakarta, Bandung, Yogya, Kobe, Osaka and Kyoto. The group's leader, Shin Nakagawa, asked Eisma to compose a new work for Marga Sari. This composition, Uguisu, for pelog gamelan and tape, received its première in July 2000 in Tokyo.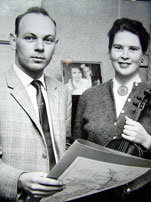 Music for education
In 1967 Eisma composed Canti for 1, 2 and 3 violins.
In 1976 he worked, under the pseudonym William Feadler, together with Willy Reeser on a violin method for group education (Haren op Snaren). He composed duos and trios for this method. Moreover, he made many arrangements of various classical melodies and folk music. Later on, a number of volumes followed with arrangements of Scottish Fiddle music.
Soloists and orchestras of the Dutch Broadcasting company
Many of his works have been composed for soloists and orchestras of the Dutch Broadcasting company and have received their première performances.
TAURUS-05N2A (1963), for orchestra
Five Roses for Diana (1969) for 16 wind instruments en live-electronics
Vanbridge Concerto (1970) for solo horn and orchestra
Le Gibet (1971) for baritone , 7 instruments and electronics
Little Lane (1973) for solo oboe and orchestra
Le choix du costume est libre (1974) for string trio and small orchestra
Metselwerk (1979) for solo percussion and orchestra
Indian Summer (1981), for English horn solo and orchestra
Pentathlon (1982) for 5 solo violas and orchestra
Du dehors-Du dedans (1983) for mezzo-soprano and orchestra
Silver Plated Bronze (1986) for solo contrabass and orchestra
Passo del Diavolo (1989) Concerto nr. 5 for orchestra
Additionally, many works were composed for a smaller group of musicians associated with the broadcasting orchestra including:
Diaphonia (1962) for oboe and string trio, Archipel (1964) for string quartet, World within World (1966) for oboe and string trio, Because it is (1968) for oboe, cembalo and percussion, Gadget (1971) for 11 wind instruments, Als een zee binnen mijzelf (1984) for percussion and tape and Quintessens (1988) for brass quintet.
It is clear that Eisma's oeuvre is extensive. The large number of compositions written for children and amateur musicians should not be left unmentioned. Technically, in terms of composition, he does not avoid experimentation: serial, aleatory methods, graphic notation, etc…
But this is not purely for the sake of the experiment itself. The first matter of importance is performance pleasure combined with concertante virtuosity. In this way he creates a distinctive atmosphere with roots linked to his early life in Indonesia. The following compositions for gamelan have resulted from this specific interest in Indonesia:
Liwung (1977), Suara-Suara pada waktu fajar (1985), Mawar jiwa (1992) and Uguisu (1997).
Awards:

Béla Bartók Award, Bloomington, USA 1958
Visser Neerlandia Award, The Hague 1963
ISCM Award for electronic music, Rome 1972
Culture award of the municipal Hilversum, 1976
Principal publishers:
Donemus (Amsterdam) and Moeck Verlag (Celle, DE).

Compositions on CD:

Mawar jiwa (gamelan and electronics) – NM Classics 92062
Malva (recorder quartet) – NM Classics 92100
A Contre-courant (violin and harp) – Mirasound 39.9029
Works for orchestra and chamber music on his private label Five Roses.
Bibliography:
Classical Musicians, speak out as a new century begins, by Sidney Bertram Smith.
Published by Melrose Books, UK, 2005, ISBN 1905226020 / 9781905226023
"De oostenwind waait naar het westen", Indische componisten, Indische composities, 1898-1945, page 307;
by Henk Mak van Dijk. Published by KITLV Press, 2008. ISBN: 9067182990 / 9789067182997
Onder stroom, Geschiedenis van de electronische muziek in Nederland, by Jacqueline Oskamp.
Published by Ambo|Anthos, Amsterdam, 2011. ISBN 9026323247 / 9789026323249
(Translation: Patricia Werner)